After falling heavily in price earlier this month, cardano (ADA) has rallied strongly in the market over the past few days, outpacing all other cryptoassets in the top 30 by market capitalization on a weekly basis and entering the top 10 club again. Meanwhile, litecoin (LTC), which for a long time reigned as one of the top cryptoassets, has now fallen out of the top 10 ranking, after a month of disappointing returns for the cryptocurrency.
As of press time (09:52 UTC), ADA was up almost 25% over the past 7 days, trading at a price of USD 0.102. However, the token was still down on a daily basis, with a 24-hour price drop of 3.6%.
ADA price chart: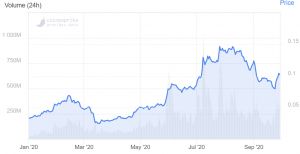 The drop followed Cardano's third anniversary yesterday, with founder Charles Hoskinson announcing in a live stream recorded for the occasion that there are now "seven times as many transactions on a daily basis today than there were on the second anniversary."
The gains for ADA also came as crypto exchange Bittrex re-listed the token after completing an upgrade to the exchange's ADA wallet. The upgrade followed a prolonged period of ADA being unavailable from the exchange, which Hoskinson said in a video update was due to the exchange using "the most broken of all the wallets" with lots of "very old, very bad code," making it difficult to upgrade.
Meanwhile, litecoin, often referred to by its founder Charlie Lee as "the silver to bitcoin's gold," has fallen out of the top 10 ranking of cryptoassets by market capitalization. It's now the 11th most valuable cryptoasset, coming in just behind ADA and bitcoin SV (BSV) in terms of market capitalization.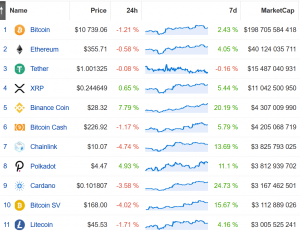 The fall in LTCs ranking comes after it was reported earlier in September that transactions on the Litecoin blockchain had skyrocketed after a new game known as LiteBringer was launched this month. And as it turns out, the high level of transactions on the Litecoin network has kept up since the game launch, with 157,000 transactions yesterday.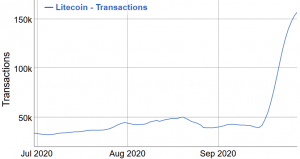 The reshuffling of the top 10 ranking happened as Litecoin dropped by 1.7% over the past 24 hours, trading at a price of USD 45.5. The price was up by 4% in a week, trimming its monthly losses to less than 22%.