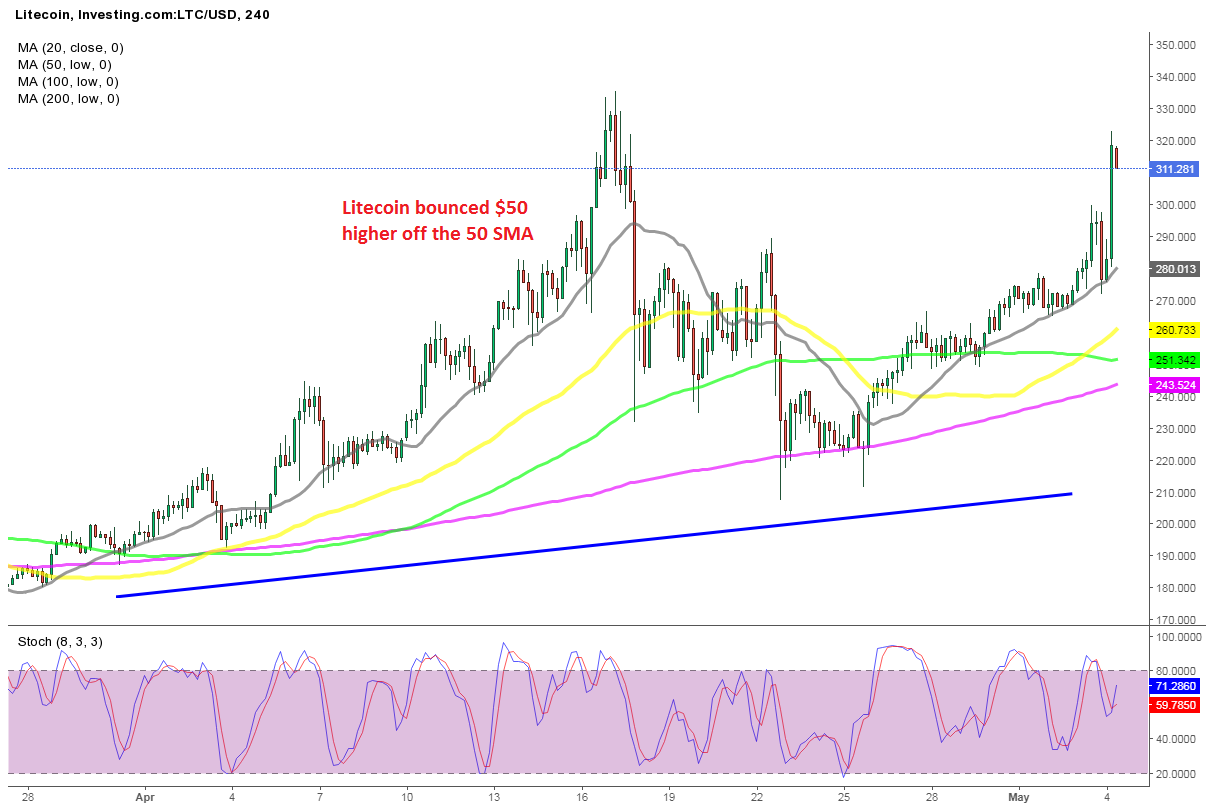 Litecoin has covered quite some distance to the upside since November when it was trading around $50. This crypto started the bullish tend back then and it has been moving up, making new highs after every pullback, with the 50 SMA holding as support on the daily chart, pushing the price up.
April was quite bullish, as the price doubled in a few of weeks, climbing from around $170 to $340. We bought this cryptocurrency in February, during the precious major pullback, while the last retrace down took place in the second half of April.
Although, the 50 SMA (yellow) held as support again on the daily chart while on the H4 chart above we see that the 200 SMA (purple) did that job. This moving average was pierced a few times but there was no candlestick close below it, which means that there wasn't a break.
The price started reversing higher after a pin candlestick right at this moving average and buyers have been in charge since then. The price moved above the 100 SMA (gren) while the 20 SMA (gray) turned into support on the H4 chart.
LTC/USD
The 20 SMA kept pushing the price higher and yesterday LITECOIN reached $300. During the night we saw another pullback lower, but the 20 SMA held as support once again and today we saw another jump higher a while ago, which took the price to $320s. So, the bullish trend is back on now, although I can;t see any reason why Litecoin jumped higher.
eBay CEO Jamie Iannone said that eBay is looking into a new payment option which should be cryptocurrencies, which might have played a part in this latest rally. Although, the company is also exploring ways to utilize non-fungible tokens (NFTs).
The Litecoin tim reported that "There has never been so much capital confidence invested into the network, and other hard data metrics such as transferred values and transaction numbers show usage is rising. These numbers suggest fundamental support of these valuations and indicate this is not just speculation". So, the buying pressure remains strong and we are nearly $10,000 pips up with our LTC/USD buy signal here.